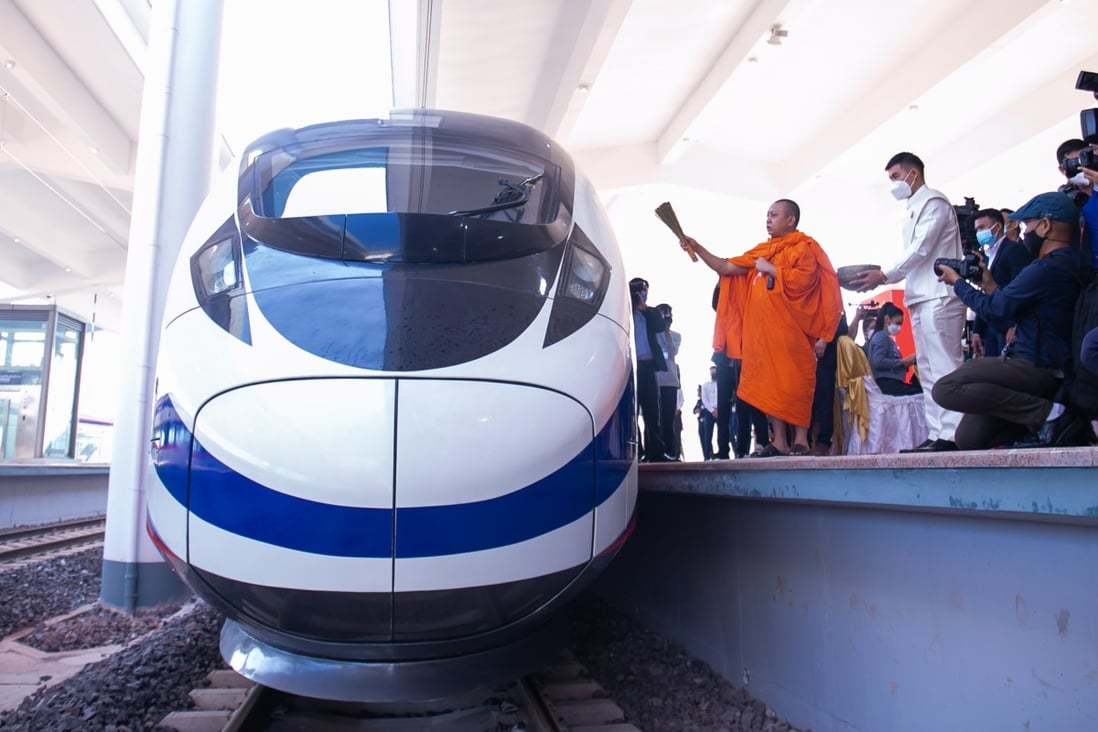 A traditional ceremony is held at the Vientiane railway station in Laos on December 2, 2021. The opening of the China-Laos railway has been heavily promoted by the two countries. Photo: Xinhua
Published: 9 December 2021
As China brings Laos into its fold, will the US seek to reset relations to counter Beijing?
The China-Laos railway may have all but sealed Laos' fate as a satellite state, but the resurgence of Cold War rivalry could tempt Washington to compete for influence

Laos could benefit from the added competition, as its economy remains fragile and burdened by debt
China's US$6 billion high-speed railway in Laos has just opened for business. Promotional videos in both Lao and Chinese feature shots of a slick new train gliding through tunnels. Lao songs use the Chinese phrase yidai yilu, praising the Belt and Road Initiative. Uniformed train attendants press their hands together in greeting, promising a journey that is as smooth as silk.
It remains to be seen, however, just how much business there is in Laos, a poor country where annual GDP is around US$18 billion and where few citizens can afford to travel on the fancy new train, or would indeed want to, given it is not possible at present to go beyond Botan, a border town best known for its now-defunct casino.
The link to Kunming runs over 1000km, and will certainly be a boon to moving cargo to and from China, reducing the need for back-road trucking. But cynics will point to its penetration of the Laotian heartland as a strategic vulnerability.
The railway is not necessary infrastructure, nor is it market-driven economic investment, and it won't be much of a political win-win scenario until Laos discharges its mounting debt, which is partially backed by making five potash mines available to China.
It's easy to be sceptical about anything that increases the reach of a powerful country of 1.3 billion people into a precarious state of just 7 million, but the need for Laos to bend to outside influences is not new.
Laos has been used as a stamping ground before, first by the French who colonised it as part of their Indochina project and then by the Americans, who bombed it back to the Stone Age during the Vietnam war.
When Hanoi-backed forces decisively won that war, Vietnam became the new bully on the block, infiltrating Laos as only a "fraternal" communist country could.
Beijing, Bangkok and Hanoi are Vientiane's three biggest trading partners. Thailand shares a long border and a long history with Laos, and unlike Vietnam, has intimate linguistic and cultural links with its neighbour across the Mekong.
What Thailand does not have, though, is the technical prowess, political will and deep pockets that have allowed China to dominate the fragile Laotian economy.
The US, with exports valued at less than US$25 million, does not have significant trade with Laos. Its greatest feat of outreach in recent years was a promise of funds to get rid of the unexploded ordinance left from the 2.5 million tons of bombs it dropped.
Daniel Runde, a vice-president at the Washington-based Centre for Strategic and International Studies, recently argued that the US should "reset" relations with Laos even though it has already been written off as a satellite state of China. Smart investments in things like solar power would stand in contrast to the Chinese dams which pose a threat to the environment and have added to Laos' debt burden.
Runde is onto something important. Relations are marked by a pointed lack of US interest, despite its long chequered history of intervention in Laos.
Vang Vieng, one of the 10 stops on the new railway, was home to a US military outpost for training Lao to kill their pro-communist countrymen. But as Laos sinks deeper into China's embrace, it may wish to increase it options and its ability to say no, in which case shoring up ties with its old adversary may be a shrewd move.
The recent uptick in Cold-War-style rivalry could change that; the desire to defeat a nominally communist regime by proxy may yet lead Washington to compete for the hearts and minds of the Laotian people again.
This time, the US needs a defter, more gentle hand. Laos will be the loser if it allows itself to become a battleground in a new cold war that turns hot. However, if the battle of wills between Washington and Beijing remains cool, and money is pouring in from both sides, it might turn out to be win-win after all – at least for a while.
Philip J. Cunningham has been a regular visitor to China since 1983, working variously as a tour guide, TV producer, freelance writer, independent scholar and teacher