How the Indo-Pacific became the new arena for US-China rivalry
As Washington ups its interest in Southeast Asia, it has made 'Indo-Pacific' its preferred term for the vast region that stretches from India to Australia

The name is an attempt to align geographic and political categories as the US competes with China for influence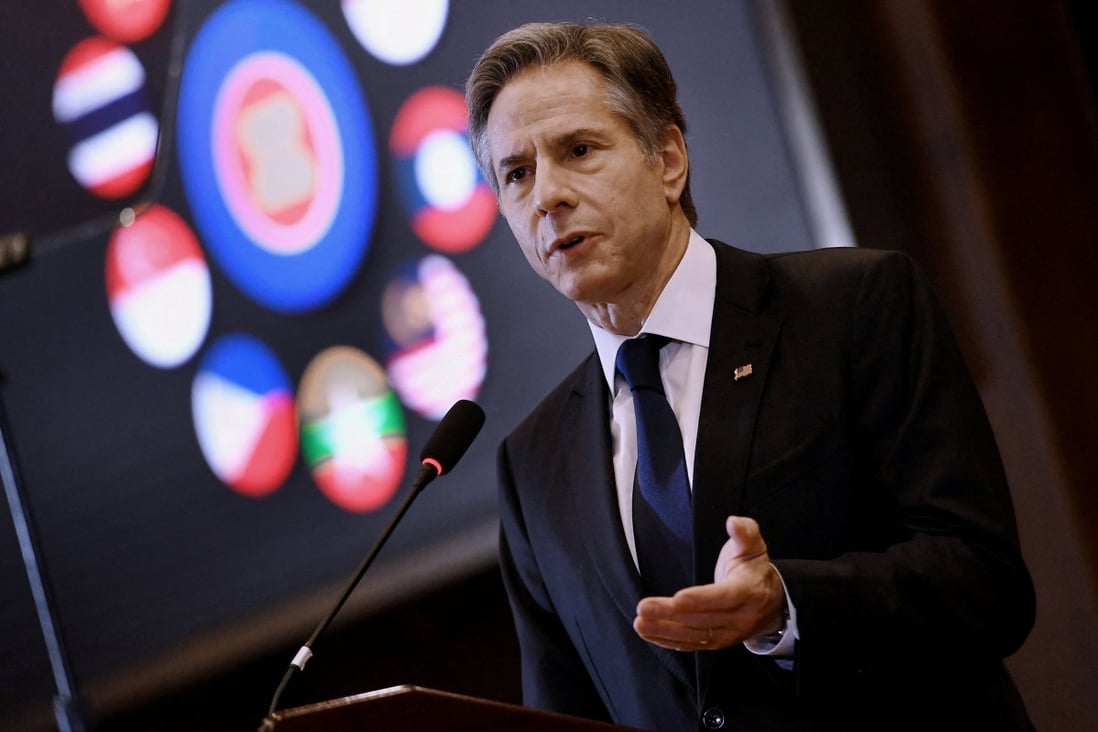 US Secretary of State Antony Blinken speaks at the University of Indonesia, in Jakarta, on December 14, as part of US attempts to boost engagement in Southeast Asia. Photo: Reuters
During his recent visit to Southeast Asia, US Secretary of State Antony Blinken found just the right diplomatic note to describe the sudden uptick of US interest in a region long neglected in Washington's corridors of power.
"It's not about a contest between a US-centric region or a China-centric region – the Indo-Pacific is its own region," he said.
Diplomatic niceties aside, the competition between the US and China for the hearts and minds of Southeast Asia is heating up. It is a contest, and Washington and Beijing are keen to outdo one another in spreading influence in the region.
As for the Indo-Pacific being "its own region", that anodyne phrase is also up for debate. Every region is its own region, but when boundaries are conjured up with little basis in reality or fact, purely for political purposes, is it even meaningful to think of it as a region?
The term "Indo-Pacific" remains controversial. Outside marine biology, it is close to meaningless. Historically, it was used between the two world wars in Berlin, where policymakers envisioned a German alliance with India and China. Nowadays, the only reason it is being bandied about is because the United States is changing the terminology of the game as it goes along.
It's a linguistic sleight of hand that lets the US include India in its China encirclement strategy.
And it's not the first time Washington has adjusted the political map to bolster its agenda. The Asia-Pacific Economic Forum (Apec) is a prime example. The term Asia-Pacific, or Apac for short, is a grand geographical sweep that has gained credibility as a region since the 1989 founding of the forum.
In fact, Apac is so broad a category that it constitutes more than half the planet, with only Europe and Africa excluded by definition. Still, this expansive term gained currency during the heyday of globalism when the annual Apec summits were among the most significant convocations of global power.
As US-China tensions began to rise, however, and the US strategy for containing China took on a more confrontational edge, any grouping that excluded India was problematic. That's not only because India's rapid development and population rise in recent years is such that it is seen as the "new" China, but because India has always been a natural counterweight to China.
The US thus roped India, which is not a Pacific country, into the "OK Corral" by popularising the hybrid term, Indo-Pacific.
This broad-brush category was further refined with the founding of the Quadrilateral Security Dialogue, or Quad. Composed of the US, India, Japan and Australia, the Quad is scattershot in its geography, but it functions as a US-led political posse of like-minded democracies designed to check Chinese influence.
Blinken's much-touted trip to shore up alliances in the Indo-Pacific was cut short when a member of his team tested positive for Covid-19 while the entourage was in Malaysia. The rest of the tour was cancelled, a setback for US-Thai relations since Thailand is a frontline country in the battle for influence between the US and China.
The December grand opening of the US$6 billion Kunming-Vientiane Railway connecting China to Laos by high-speed train has the US worried that Laos has become a de facto satellite state, and Thailand is just next door.
There is unease in Thailand about China's newly improved reach, and it is significant that the proposed Thai portion of the railway is still subject to debate. The Laos connection alone allows low-cost Chinese goods to flood into Thailand from the China-built railway terminus, just a Mekong River bridge away from the Thai hinterland region of Isan.
As other regions have learned to their short-term delight and long-term detriment, quality goods produced efficiently due to China's economies of scale and state coddling may be a boon to consumers but a nightmare for local competitors.
Opening the spigots of trade with China, for which the new rail link is the key pipeline, will benefit select exporters in Thailand and beyond, but will pose a serious threat to local manufacturers and farm businesses unable to compete at scale on Chinese terms. Thai industries that produce intermediate goods for export are likely to be among the biggest losers.
Australia is an object lesson for the region about how exports to China can halt abruptly if Beijing becomes displeased for political reasons. On the other hand, Australia's role in the Quad, like that of Japan, looks increasingly like a proxy for the US position on China.
If there is any doubt that "Indo-Pacific" and its core grouping known as the Quad are shorthand for China containment, consider this CNN headline: "Blinken says the Indo-Pacific will shape the trajectory of the 21st century as counterweight to China's aggressive actions".
During his December 14 speech in Indonesia, Blinken said China was the "biggest geopolitical test of the 21st century" and its "aggressive actions" threaten US$3 trillion of commerce annually.
Declaring that China's behaviour had to change, Blinken said: "We'll adopt a strategy that more closely weaves together all our instruments of national power – diplomacy, military, intelligence – with those of our allies and partners."
Philip J. Cunningham has been a regular visitor to China since 1983, working variously as a tour guide, TV producer, freelance writer, independent scholar and teacher